Star Island Grill
Yacht Club Restaurant IN MONTAUK
Hours

Open 7 Days a Week for Breakfast, Lunch and Dinner




Reviews




Follow Us
Star Island Grill, featuring casual dining overlooking the Montauk Harbor, is open once again for the summer season. The restaurant is open on weekends until Memorial Day. During the summer season, Star Island Grill is open 7 days a week.
Menu
This year, Star Island will feature a new lunch and dinner menu featuring the freshest local seafood, the best hamburgers, barbecue items and home-style dinners. Dockage will also be available during lunch and dinner, as boaters can place their orders dockside and have them delivered straight to their boat.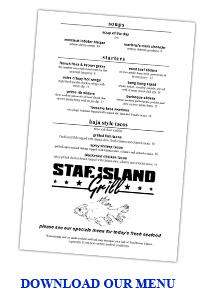 Local favorites include:
Montauk po'boy
fresh fried flounder fillet with baby arugula, tomato, red onion and tartar on grilled brioche roll served with crispy fries and slaw
Warm meat loaf sandwich
better than mom's meat loaf baked with bacon, finished on the flat top served on a ciabatta roll with melted provolone brown gravy dip and crispy fries
Tuscan chicken sandwich
fresh grilled chicken breast with roasted red peppers, provolone cheese, baby arugula and basil sauce on a ciabatta roll served with crispy fries
Becca's barbeque sandwich
dry rubbed house smoked pulled pork, tangy cole slaw, sliced pickles and melted cheddar cheese on grilled ciabatta bread served with sweet potato fries
Star burger
1/2 lb of fresh grass fed beef, char-grilled to your liking, topped with cheddar cheese and apple wood bacon on a brioche roll with crispy fries
Sam's Sandwich
slow-roasted prime rib of beef sliced thin and served warm on grilled ciabatta bread with au jus dip and beer battered onion rings
Star Island Grill will also be open early for the Fishermen's breakfast. A full breakfast menu is available for all fishermen who want to get something to eat before going out to sea. If they catch anything, the fishermen can have the chefs at Star Island Grill prepare and cook the fish and serve it to the angler's liking.
"We can't wait for the weather to warm up and the boating season to begin. Our new menu will reinforce Star Island Grill as a unique tourist destination restaurant that attracts both boaters and non-boaters alike," said Sam Gershowitz, Owner, Star Island Yacht Club.
Reservations are not required. For more information, call (631) 668-5052.